Touchstone is a co-ed program. Men's and Women's bedrooms are separated but we have the ability to adjust the ratio of men to women based on the needs of the community.
Touchstone is an adult-only program. This means that individuals referred to our program must be age 19 or older to be able to participate.
Touchstone is able to cater to individuals in many different financial situations. We take most private insurance and Medicaid. If an individual is uninsured then we also take probation vouchers or funding from Region V or Region II. These individuals would still be responsible for a portion of their treatment stay and that amount would be determined by our sliding fee scale. If an individual lives outside of those Regions and has no other means of payment then they would not qualify to participate in our program unless they were able to pay the full cost of their treatment stay.
Waitlist
How to be added to the wait list:
Anyone interested in participating in the Touchstone program needs to first have a substance abuse evaluation completed and sent to us for review. Some of these offer the screening at little to no cost to the individual based on circumstance.
To be eligible for the program an individual must have:
A substance abuse evaluation completed in the last 6 months
A moderate or severe substance use diagnosis
A recommendation for Short-Term Residential Recovery Program (III.5)
Once the evaluation is received it takes 3-5 business days for it to be reviewed by our team. If an individual is approved then they are added to our wait list.
The wait list at Touchstone is not first come first serve. Priority clients such as Pregnant Women, IV users, homeless individuals or members of the community will be placed before we take someone from a controlled environment such as jail. It is also depended on the number of total individuals that have been referred. This means that once someone is referred the actual length of time that they will have to wait is difficult to predict.
It is the responsibility of the individual to reach out to our program on a weekly bases to let us know that they are still interested in participating in the program. After 21 days of no contact individuals are removed from the wait list.
How to stay motivated while waiting:
There are a number of programs which an individual can participate in while they are waiting for a bed to become available.
These include pretreatment groups at CenterPointe, and Matt Talbot in Lincoln Nebraska. Also any outpatient therapy would be a great resource.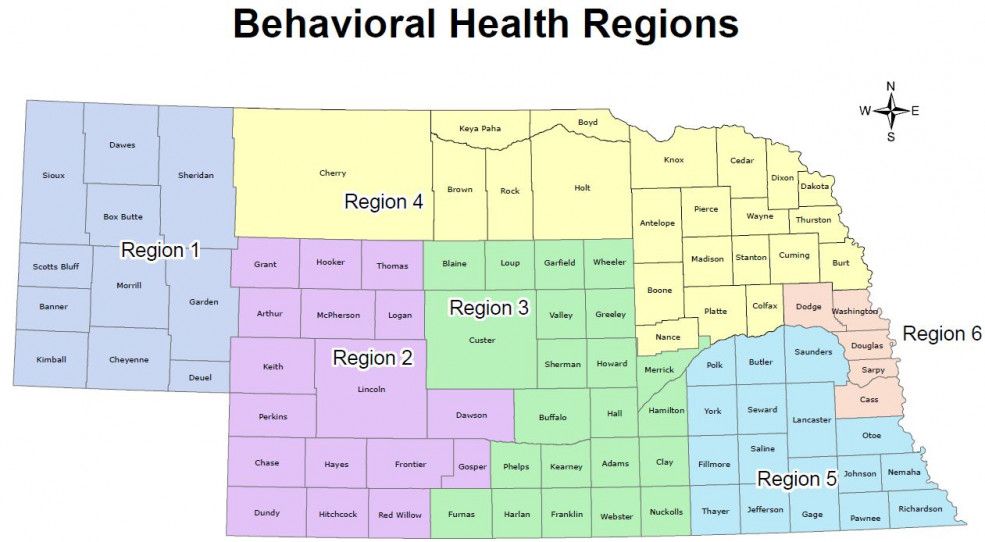 Region V Evaluation Options
Associates in Counseling
2110 S 38th St
Lincoln, NE
(402) 261-6667
Lincoln Medical Education Partnership
4600 Valley Rd #225,
Lincoln, NE
(402) 488-6511
Lutheran Family Services
2301 O Street
Lincoln, NE
(402) 441-7940
Matt Talbot's
2121 N 27th St
Lincoln, NE
(402) 817-0614
Parallels
1640 L Street
 Lincoln, NE
(402) 489-9792
CenterPointe
1000 South 13th Street
Lincoln, NE
(402) 475-5161
Region V Counties:
Polk
York
Filmore
Thayer
Butler
Seward
Saline
Jefferson
Saunders
Lancaster
Gage
Otoe
Johnson
Pawnee
Nemaha
Richardson
Region II Counties:
Grant
Arthur
Keith
Perkins
Chase
Dundy
Hooker
McPherson
Lincoln
Hayes
Hitchock
Thomas
Logan
Frontier
Red Willow
Dawson
Gosper
Region 1: Region1bhs.net
Alliance, NE
914 West 10th Street
Alliance, NE 69301
308-633-7119
Chadron, NE
127 West 2nd Street Suite 107
Chadron, NE 69337
308-430-5014
Fax 308-747-2248
Oshkosh, NE
310 Main Street #A
Oshkosh, NE 69154
308-633-2070
Fax 308-633-2095
Scottsbluff, NE
18 West 16th Street
Scottsbluff, NE 69361
308-635-3173
Fax 308-632-2326
Region III: Region3.net
4009 6th Avenue, Suite #65
Kearney, NE 68845
308-237-5113
1-800-321-4981
308-236-7669 fax
Region IV: Region4bhs.org
206 W. Monroe Avenue
Norfolk, NE 68701
phone: (402) 370-3100
fax: (402) 370-3125
email: info@region4bhs.org
Region VI: Regionsix.com
4715 South 132nd Street
Omaha, NE 68137
Phone: 402.444.6573 and 800.311.8717
Fax: 402.444.7722